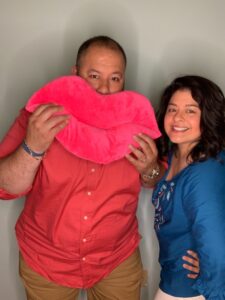 Our Approach
Baci Booths Photo Booths is all about elevating your photo booth experience! Baci Booths offers two styles of open air photo booths.
-Lux Baci Booth is a gorgeous oak booth with multi layout options and exceptionally high quality images and badass lighting
-Digital Baci Booth is a sleek and compact booth with tons of customization features and beautifying ring & ambiance lighting
Both Baci Booths can perform as print or digital only. Indoor or outdoors, share images gifs or boomerangs via email text, or AirDrop and directly to your favorite social media platform!
Baci Booths makes sure you have quality images and instant downloads. In addition to custom props, that you won't find anywhere else.
Our Story
Emilio is from New York, Gisselle is from California. They take their two distinct styles, and as a result, they bring you Baci Booths, a uniquely modern and minimalist Premier Columbus Ohio photo booth experience.
In their spare time they chase their two toddlers, love summer festivals in Ohio, and traveling back to California and New York. Disney trips are also at the top of their list!
Ready for a unique photo booth experience?
We would love to know more about you! Tell us about your event and book your date today.